St. Patrick's Day is on Saturday. That means instead of the usual St. Patrick's Day bar-hopping, you can treat this like an honest-to-goodness holiday and invite people over for a party. And no St. Patrick's Day party would be complete without some gorgeous green cocktails.
So here are some fab green cocktail recipes for St. Patrick's Day.
May the luck of the Irish be with you.... or at least some aspirin and pizza for your hangover the next day.
Green Flash Cocktail
Courtesy of White on Rice Couple
1 oz vodka
1/2 oz Peach Schnapps
1/2 oz Blue Curacao
3 oz orange juice
3 oz sprite
ice
Mix ingredients together, serve over ice. Garnish with an orange slice and maraschino cherry.
1 oz of simple syrup
sprite
3 lemon wedges
8 mint leaves
Muddle 3 lemon wedges with mint leaves. Pour green tea vodka, simple syrup and shake. Strain into highball glass over ice. Top with sprite. Garnish with mint leaves.


Midori Melon Bomb
Courtesy of
The Nibble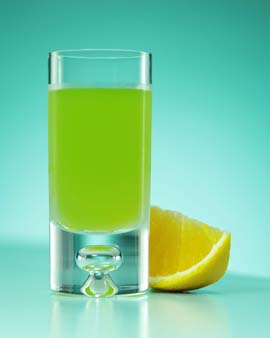 ½ part Midori
¾ part golden rum
½ part fresh orange juice
Pour into a tall glass over ice.






Green Lizard Shot
Courtesy of Drink Nation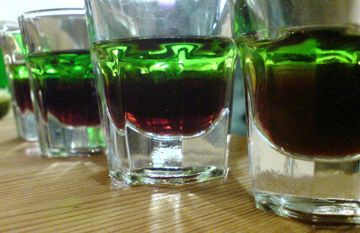 Photo by Taea Thale.

samsmith
1 oz. Chartreuse, green
1/2 oz. Rum, overproof/151 proof
Mix ingredients and pour into a shot glass.






Midori Margarita
Courtesy of
Blender King
Pour the ingredients except the ice into your blender and blend for about 10 seconds. Then, throw in a handful of ice and blend for another 30 seconds.